Roc'kit – Fastest Cable-less Micro Power Bank For Smartphones Now On Indiegogo
Taoyuan, Taiwan – The Roc'Kit is the fastest-charging, cable-less micro power bank for smartphones that is available now on Indiegogo. Designed by the Taiwanese mobile power specialist, HSR Ltd., the Roc'Kit was designed to improve user experience by making it usable without cables, small enough to fit any pockets, and packed with the fastest charging capability on the market.
The Roc'Kit can charge smartphones and tablet devices without the use of any USB cables or extensions. Not needing any cables for charging makes it a compact and clutter-free charging power bank for all users. The 2.5Amp fast charging input/output controller chip will allow the Roc'Kit to charge a smartphone up to 5 times faster than other power banks, and be charged in just minutes on the USB adapter. Next, the 1200mAh core battery in the Roc'Kit will extend smartphone usage time, up to an hour depending on usage conditions.
Weighing at only 45 grams, with the physical size comparable to a lipstick, the Roc'Kit can be conveniently tucked away in any jeans pocket unnoticed. Since it is a product that is carried closely to users, safety is also emphasized in Roc'Kit's design. The smooth honeycomb-like aluminum casing provides increased durability and heat dissipation that ultimately extends the life and use of the power bank. The Roc'Kit is fitted with a PCB that has 8 active protections so that users are fully protected against power-surge, over-heating, and battery leaks.
According to the lead engineer behind the Roc'Kit, the idea is to enhance the user experience for charging in every aspect, focusing not only the portable design and charging capability, but also user safety. "We want to optimize the idea of convenience in a charging solution like a power bank, and at the same time deliver the power to users when they need it the most," says Keita, the lead engineer. "The Roc'Kit must stay small, hassle-free with fast charge for users, and have all the protection for users so that they feel assured to carry it wherever they go."
The Roc'Kit is now debuting on Indiegogo. Visit the Roc'Kit micro power bank Indiegogo campaign at http://igg.me/at/roc'kit. Backers now can get their hands on the early-bird Roc'Kit Classic perk for $12, 30% off the future retail price of $17. For backers who need to keep their love ones and friends charged, check out the 5-pack and 10-pack early bird pricing that is also available. Early-bird pricing is limited to quantity, get yours now!
Links:
Indiegogo campaign: http://igg.me/at/roc'kit
Youtube: http://bit.ly/rockitpowervideo
Website: http://bit.ly/rockitpower
Facebook: http://bit.ly/HSR_FB_PAGE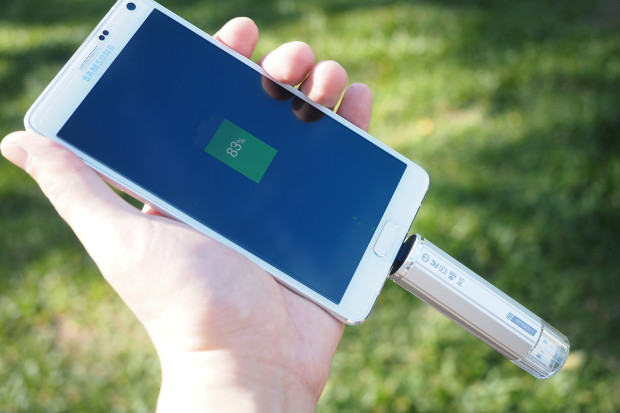 About HSR Ltd:
HSR Ltd is a team of mobile power charging solution specialists, based in Taoyuan, Taiwan. Since 2001, they have provided design and manufacturing services in battery and charger related modules for large brands and corporate clients. The Roc'Kit is the first series of HSR Ltd. branded products, with the mission to showcase Taiwan design and manufacturing excellence for consumers around the world.
Distributed by CrowdfundingPR
Media Contact
Company Name: HSR Ltd
Contact Person: John Fang, Marketing and Community
Email: [email protected]
Phone: +886 3-350-1667
Country: Taiwan
Website: http://igg.me/at/roc\'kit